TRENDnet® Ships 4-Channel HD PoE NVR Kit
Tuesday, February 24, 2015
TRENDnet® Ships 4-Channel HD PoE NVR Kit
TORRANCE, Calif. - February 24, 2015 - TRENDnet, a best-in-class wired and wireless networking hardware brand, today announces the availability of the standalone 4-Channel HD PoE NVR Kit, model TV-NVR104K, which offers a comprehensive plug and play video display, storage, and management solution.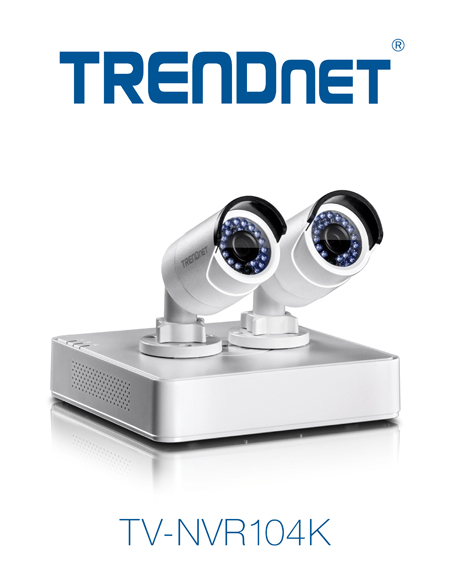 "TRENDnet has offered network cameras since the advent this product category," stated Sonny Su, technology director of TRENDnet. "The TV-NVR104K is a natural extension of our existing camera portfolio. It's a plug and play PoE solution, designed for SOHO and SMB needs."

TV-NVR104 Hardware
4-Channel HD PoE NVR
Pre-installed 1 TB SATA hard drive
Plug and play PoE network cameras to the four PoE (IEEE 802.3af) ports with a total PoE budget of 35 Watts
Ethernet network port
HDMI and VGA display ports
Optional analog audio in and out ports
USB port for the included USB mouse
USB port for configuration backup and firmware upgrade
TV-NVR104 Management
4-Channel HD PoE NVR
Access the NVR over the internet
Auto-recognizes compatible TRENDnet PoE cameras
Single camera and quad-view modes with variable-time auto-scan function
For each camera manage: on screen display, image settings, PTZ functionality, motion detection, privacy masks, tamper detection, and video loss
Record up to Full 1080p HD video at 30 fps in H.264 compression (included TV-IP320PI cameras record up to 1280 x 960)
Recording Time: 6.5 days of recording per camera: 4x cameras with continuous recording at 1280 x 960 at 30 fps; 8.5 days of recording per camera: 4x cameras with continuous recording at 720p at 30 fps.
Create weekly continuous and motion detection recording schedules for each camera with video overwrite when storage is full
Advanced archived video playback with a quick reference timeline and calendar
Quickly export specific video types over a specified time
Support for dyn.com and NO-IP.org
IPv6 support
ONVIF compliant
TV-IP320PI Hardware (two cameras included in kit)
Outdoor 1.3 MP HD PoE IR Network Camera
The TV-NVR104 auto-recognizes the TV-IP320PI
Fully adjustable integrated mounting bracket provides installation flexibility
Save installation costs with Power over Ethernet (IEEE 802.3af)
Outdoor IP66 weather rated
Operating temperature range of -30 - 60 °C (-22 - 140 °F)
1.3 Megapixel: Record 1280 x 960 pixel and/or 720p HD video at 30 fps in H.264 compression
Night vision up to 30 meters (100 ft.) in complete darkness
Dynamic IR adjustment optimizes night visibility
Digital Wide Dynamic Range improves video quality in high contrast light environments
IPv6 support
ONVIF compliant

TV-NVR104K Product Page:
http://www.trendnet.com/langen/products/proddetail.asp?prod=105_TV-NVR104K
TV-NVR104K Product Images:
http://www.trendnet.com/langen/support/supportdetail.asp?prod=105_TV-NVR104K
TV-NVR104 warranty: 2 year limited
TV-IP320PI warranty: 3 year limited
Installed HDD warranty: per HDD manufacturer
TV-NVR104K Availability: Currently available from online and retail partners
TV-NVR104K MSRP: USD 529.99


Contact:
TRENDnet
20675 Manhattan Place
Torrance, CA 90501
USA
Marketing Department
(310) 961-5500
PR@trendnet.com
Sales Department
(888) 326-6061
sales@trendnet.com

For more information contact Lisa Sinicki at 207-653-5407 or lisa.sinicki@ESXweb.com.